Roberto Gutierrez, A Video Portrait
By Filmmaker Robertino Fonseca
Roberto Gutierrez has been an artist for 40 years. While well known in the Eastside of LA, he is virtually unknown outside the area. Roberto documented through painting the Chicano community of 70's and 80's, expanded his vision through Los Angeles, and ended up painting in Paris in the 2000s. He is currently changing his focus toward abstraction. In 2000 he also was selected to create the poster that represented the Democratic Party at the National Convention. Roberto is a Viet Nam vet who graduated from ELA City College with a degree in art, and then cut his teeth at Self-Help Graphics. He has exhibited extensively throughout EastLA and in the last few years, in France. He is also featured in an award winning film entitled Dark Progressivism by filmmaker Rodrigo Ribera de'Ebre. Roberto is one of the important artists collected by Cheech Marin, and through that collection has exhibited at LACMA.
The filmmaker and Roberto Gutierrez will be present. Please join us for the film viewing followed by Q&A.
Champagne and Appetizers will be provided.
Sunday, November 13 at 2 PM – 4 PM
Avenue 50 Studio's Main Gallery presents:
From
Other
Lands
Curated by Raoul De la Sota, From Other Lands, is a visual discussion on immigration to the United States. Each continent is represented by the 11 artists chosen to exhibit.
featuring:
Jose Antonio Aguirre – Mexico
Yrneh Brown – Jamaica
Jimmie Centeno – Ecuador
Estella Cheung – China
Dora Magana – El Salvador
Farril Nawir – Indonesia
D'jbril N'doye – Senegal
Olga Ponomarenko – Russia
CCH Pounder – Guyana
Cindy Suriyani – Indonesia/China
Katsu Yokoyama – Japan
Curatorial Statement:
"Recently there has been a great deal of discussion about immigration to the United States. Much of this has been as negative comment about the people entering our boorders. I put together this exhibit in part to emphasize the contributions of immigrants to our country. My parents were among those that entered this nation of immigrants with hopes for a better future. Among the hard working people that have made the United States their new home, there are many of us who have brought our aesthetic ideas and beliefs with us. Now they often portray their new home and culture along with a good mix of their own backgrounds." – Raoul De la Sota
Opening Night Reception:
Saturday, November 12, 2016 from 7-10 pm
Exhibit on display from:
November 12 through December 3, 2016
---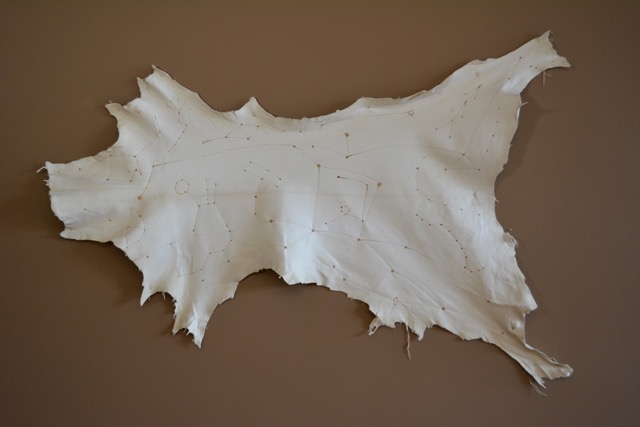 After months of creative collaboration, Angels Gate Cultural Center will unveil a much anticipated event with Avenue 50 Studio and The Arroyo Arts Collective:
On The Map: Artists Maps from Opposite Ends of the 110 Freeway, an Ancient Route Reconnected.
The exhibition will take place in two places simultaneously; Avenue 50 Studio located in the Highland Park neighborhood of Los Angeles and Angels Gate Cultural Center in San Pedro. Curators from the three participating organizations created an open call for maps created by artists that live and work at opposite ends of the 110 Freeway in Los Angeles. The twenty selected proposals will be hosted by the organization at the other end of the highway from the artists; the artwork itself tracing the road that was once traveled by native Tongva, the Spanish wagon, the stagecoach route and early trains.
Artist appearing at Avenue 50 Studio:
Yayoi Ailene Shibata
Victoria Abbatiello
Tim Maxiener
Eve Pericich
Lowell Nickel
Phoebe Barnum
Stuart Hamilton
Susan Rawcliff
Michael Davis
Nancy Voegeli-Curran
Artist appearing at Angels Gate Cultural Center:
Gwen Freeman
Rebeca Guerrero
Francesca Andrews and Elizabeth De Neve
Kevin Hass and Cidne Hart
Marianne Sadowski
Toti Obrien
Jacqueline Dregar
 Elaine Parks
Sandy Huse
Peter Hess
Jennifer Reifsneider
Carol Colin
Opening reception: Saturday, November 5, 2016 from 1:00-5:00pm.
Exhibit runs from November 5 to December 18, 2016.
---
---
---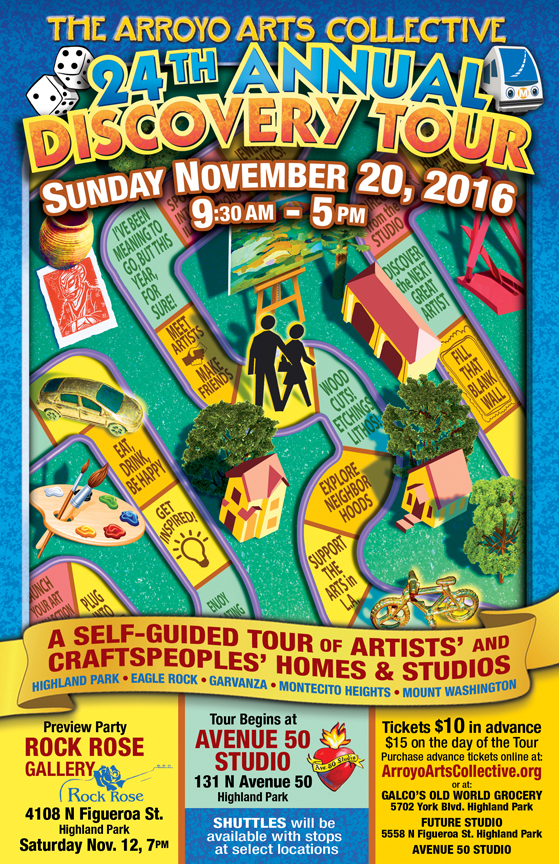 Arroyo Art's Collective's 24th Annual  Discovery Tour
$10 tickets are for sale at Avenue 50 Studio for the 24th Annual Discovery Tour.
Gallery Hours: Tue-Thurs, 10am-4pm | Sat-Sun, 10am-4pm | or by appointment
Address: 131 North Avenue 50
Los Angeles, CA 90042
What: A self-guided auto tour featuring 80 artists in homes and studios in Highland Park, Mount Washington, Eagle Rock, Garvanza and Montecito Heights.
When: Sunday, November. 20, 2016 9:30 a.m. – 5:00 p.m.
Where: Tour begins at AVE 50 Studios, 131 N Ave 50 , Los Angeles, CA 90042
Cost: Tickets are $10 in advance; $15 on the day of the tour.
On November 20th, the Arroyo Arts Collective invites the entire NELA community to visit the homes and studios of the group of artists who make up the 2016 Discovery Tour! The eighty-strong assembly of artists ranging from emerging to established, and from fine artists to craftspeople, will open their doors to you as part of one of the oldest and most celebrated art tours in Los Angeles.
As a Tour participant, you get to see painting, drawing, mixed media, sculpture, jewelry, woodworking, and many other forms of artistic expression in a wide range of styles. On top of that, you get the rare chance to admire an array of historic homes and colorful art studios in this vibrant community. Whether you are a savvy art collector looking for an edgy addition, a new home owner looking for wall decor, a fashionista looking for a cool pair of earrings, or a holiday shopper looking for that one-of-a-kind gift: you will find it!
The Tour will start this year at the artistic staple in the heart of Highland Park, AVE 50 Studios where participants will receive a map and tour badge. Maps will be available beginning at 9:30 a.m., and homes and studios will open at 10:00 a.m.
A Preview Party featuring sample work from Tour artists will be held Saturday, November 12, 2016 at7:00 p.m. at Rock Rose Gallery, 4108 N. Figueroa St, Highland Park, 90042, in conjunction with the NELA Second Saturday Art Walk. Refreshments and live music will delight party-goers into the night while they sneak peek on some of the goods for Tour day!
To purchase tickets online or for more information: http://www.arroyoartscollective.org/index.html
Sunday November 20, 2016.
9:30 AM – 5:00 PM